Are you planning to change your network? You're at the right place.
How to port any number?
Kindly follow the below steps in order to port to any operator.
Step 1. Generating porting code:
The initial step of porting is to create a porting code which stays valid for 4 days just according to new guidelines from TRAI (Telecom Regulatory Authority of India).
To generate the code send the following text message:
PORT(Space)(Mobile Number) to 1900 Ex PORT 9876543210 to 1900
Step 2. Receive Porting Code:
You will get a SMS from 1901 with your code which is called UPC or Unique Porting Code. UPC code lapses in 4 days.
Step 3. Submitting Porting Request
Next stage is to present your porting application to the operator. You can do it on the web or visit the operator store close to you.
Note – Documents which are required are as follows :-
Address Proof
Identity Proof for Digital KYC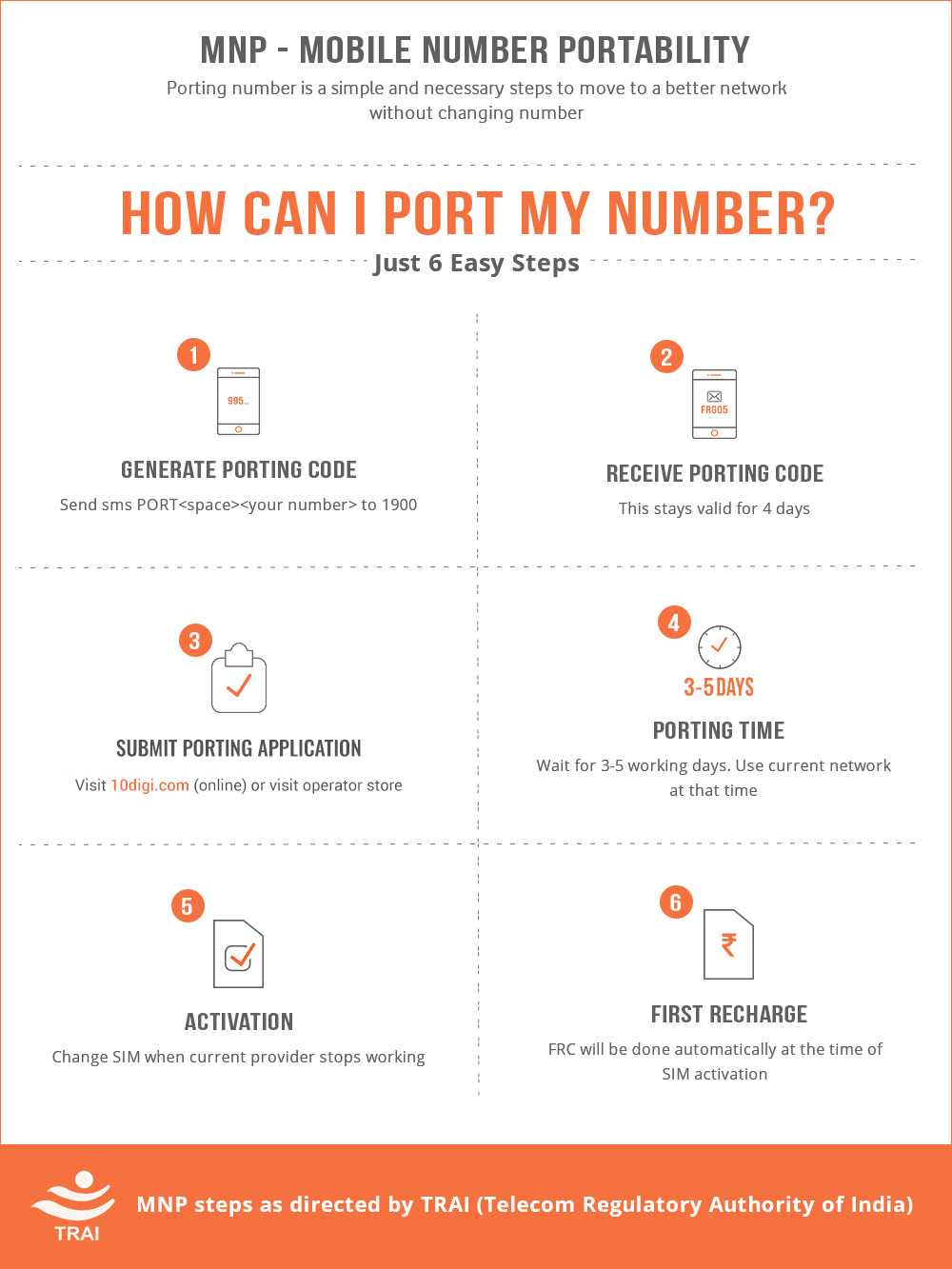 For corporate/ company connections
In order to port corporate numbers, users need to submit NOC. This NOC needs to be on the letterhead of the company and should be stamped and signed by an authorised signatory along with other documents.
Step 4. Processing Time
After all this you'll receive a message within 1-2 days on your current network stating a confirmation or decline of porting request. It will also indicate the date and time of porting.
Porting process takes 3 working days for the same circle porting.
Note – The services on your present SIM won't be intruded on during the porting process.The downtime is for around 2 hours only (during night).
Step 5. Activation
Once your old connection stops working, you can change and start using a new SIM.
Step 6. First Recharge on New Network
In the case of prepaid connection your first recharge will be done automatically when the activation and porting process is done.
What are different rules of Porting?
Yes Porting has its own rules. In order to change your current network to another you need to focus on below points –
a) The 90 Days Same Network Rule
In order to port the number, the user has to ensure that at least 90 days has passed from the date of activation of your old network. It means you cannot port before 90 days if you have bought a new number or ported the number in the past.
b) No outstanding postpaid bills
A postpaid supporter needs to guarantee that all the bills and dues are paid in time prior to moving. Before porting an undertaking form is also signed by the user. Alongside with your bill payment, you need to ensure that you pay an additional amount of about Rs. 50 – 100 that you can use for 3-5 days (i.e the time to process porting request)
c) The balance amount will be nulled for prepaid number
A prepaid subscriber should know that the mobile balance amount is nulled at the time of porting the number.
Possible ways of porting
Any Postpaid to another Prepaid
Any Prepaid to another Postpaid
Any Prepaid to another Prepaid
Any Postpaid to another Postpaid
Common reasons of porting rejections that you can avoid
Here are the few tips which will avoid you making mistaking while porting
a) Porting before 90 days of activation
You can not change your network before 90 days of buying the number or from previous porting. The application will get rejected if the user tries to port before this time.
b) Unpaid extra usage amount (Rs. 50-100) with bill
It requires around 3-5 working days to deal with the MNP request. This means that you will be using your old postpaid connection till the time the new one gets activated. Also you have to pay extra in the bill (Rs. 50-Rs. 100) to be able to use the number for 3-5 days.
c) Porting code mismatch
After generating the valid code it will remain valid for only days. Make sure to use this code within this period of time. If your porting request got cancelled due to some reason, here you need to wait for four days and request for the porting code again after 4 days.
Why port number?
Mobile Number Portability is a splendid method of getting your favourite connection without changing your current network. Depending on your requirement, there can be multiple reasons for you to port number. Here is a list of some of the ways porting numbers can ease your life.
Lifelong ownership of the number. Thus, no need to keep changing your number.
Free choice to choose amongst the best network provider
Get the best network provider of your area
Switch to prepaid/postpaid according to your requirements
Increase in competition in the telecom service providers resulting in better offers, services and customer support
Why choose 10digi.com?
We are living in a world where everything can be delivered at our doorstep so why not SIM. Now you don't have to visit various telecom stores, stand in a queue and wait for your turn.Your personalised stores are here in your mobile phones. With your one click you can get your new connection or port your number while sitting at home.
That's not all. There are more benefits of porting online with 10digi.com rather than finding a store –
Get the best deals while porting your number.
Pay only for the selected plan, no extra porting charges.
Get exclusive customer support on call.
No parking or heavy traffic traumas.
Free delivery at your doorstep.
Delivery at your chosen time slot.
So get going and port your number sitting at home.